Premier Vehicle Equipment Suppliers in South Africa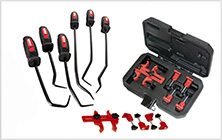 We at Mr Equipment sell, service and repair garage equipment of all types. Our corporate philosophy embraces a goal to empower motor repair enterprises. We provide them with access to a single, comprehensive equipment source with prompt and efficient back-up to keep your garage up to speed.
In response to this, we see small and medium business owners able to provide wider and better service to South African motorists, quicker turnaround times and ergonomic workshop throughput.
Our range includes: the full range of wheel and tyre fitment machinery needed for tyre shops. We are proud of our longstanding relationship with the Robert Bosch workshop network, enabling vehicle services and repairs that are up to manufacturer's specifications and standards. This is a benefit we pass onto our entire workshop, vehicle repair centre and franchise dealer customer network.
Irrespective of your market or what your speciality may be, Mr Equipment endeavours to be there for you.
MISSION STATEMENT
Mr Equipment's mission is to provide full service solutions to the automotive aftermarket sector of South Africa. Taking into account vehicle safety, user performance and turnaround efficiencies. These are the linchpin of our customers' business.
We pledge to supply high quality, technically-excellent and cost-efficient equipment to end-users. We are ever-mindful that the entrepreneurs we do business with are, themselves, the foundation of our economy.
Whatever you need, wherever you are, we have solutions for you.
VISION STATEMENT
Within three years, Mr Equipment aims to become South Africa's premiere automotive equipment supplier. We continue making state-of-the-art technology and machinery consistently available to our national customer base and empowering the small and medium business sector of the motor vehicle industry. We understand the responsibility that comes with the servicing and repair of the nation's vehicle fleet and the high quality service standards this demands.